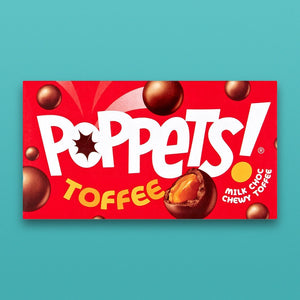 Poppets! Toffee
Step into a world of sweet nostalgia with Poppets Toffee – the ultimate British candy that's here to satisfy your cravings and bring back cherished memories!
Picture this: bite-sized toffees enveloped in rich chocolate, creating a heavenly blend of flavours and textures that dance on your taste buds. These little treats are like a warm hug from your childhood, packed with pure delight in every nibble.
Whether you're treating yourself to a moment of sweet indulgence or sharing the joy with friends, Poppets Toffee is your passport to a tasty journey down memory lane. So, unwrap, savour, and relish the magic of these beloved British candies – it's like a hug in every bite!
Nutritional Information
Per 100g
Energy
1997kJ
476kcal
Fat
21.7g
of which saturates
12.4g
Carbohydrate
66.4g
of which sugars
55.5g
Fibre
1.6g
Protein
3.1g
Salt
0.30g