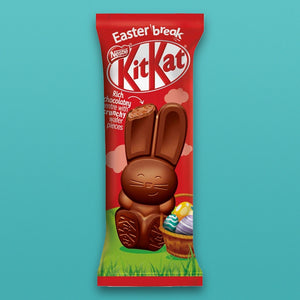 KitKat Bunny
Introducing the KitKat Bunny – a delightful burst of British candy joy that's hopping right into your heart! This limited-edition treat takes the classic KitKat to a whole new level of fun.
Imagine the familiar crispy wafer layers drenched in smooth milk chocolate, now shaped into an adorable bunny that's just too cute to resist. It's like a playful piece of art you can eat! As you bite into this iconic British candy, you'll experience the perfect harmony of crunchy, chocolatey goodness that KitKat is known for.
Treat yourself or share the bunny bliss with friends – the KitKat Bunny is your passport to a charming candy adventure that's truly British and undeniably delicious!
Nutritional Information
Typical Values
Per 100g
Per bunny
Reference Intake*
%RI*
Energy
2242kJ
650kJ
8400kJ
-
537kcal
156kcal
2000kcal
8%
Fat
31.4g
9.1g
70g
13%
of which: saturates
17.3g
5.0g
20g
25%
Carbohydrate
55.6g
16.1g
260g
6%
of which: sugars
50.4g
14.6g
90g
16%
Fibre
2.9g
0.8g
-
-
Protein
6.2g
1.8g
50g
4%
Salt
0.25g
0.07g
6g
1%
*Reference Intake of an average adult (8400kJ/2000kcal)
-
-
-
-
Contains 1 serving
-
-
-
-
Portions should be adjusted for children of different ages
-