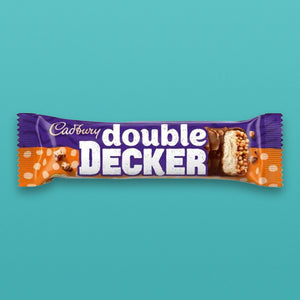 Cadbury Double Decker
Get ready for a chocolatey adventure with Cadbury Double Deckers! These chocolate bars are the ultimate double delight, packed with layers of fun and flavour.
Imagine sinking your teeth into a crispy, chewy nougat layer that's lovingly smothered in delicious Cadbury milk chocolate. But that's not all! Beneath that scrumptious chocolate exterior, you'll discover a surprise—a crunchy cereal layer waiting to take your taste buds on a wild ride.
Cadbury Double Deckers are the perfect treat for those who crave a bit of everything. They're a combination of textures and flavours that will leave you wanting more. Whether you're satisfying your sweet tooth or looking for a tasty pick-me-up, these candy bars are sure to bring a smile to your face.
So, why settle for ordinary when you can go for extraordinary? Treat yourself to a Cadbury Double Decker and experience the joy of indulging in a truly unique chocolatey sensation. It's a snack that's doubly delicious and double the fun!
Nutritional Information
| | Per 100 g: | Per Bar (54.5 g): |
| --- | --- | --- |
| Energy | 1929 kJ (459 kcal) | 1051 kJ (250 kcal) |
| Fat | 16 g | 9.0 g |
| of which Saturates | 8.6 g | 4.7 g |
| Carbohydrate | 73 g | 40 g |
| of which Sugars | 54 g | 30 g |
| Fibre | 1.5 g | 0.8 g |
| Protein | 3.7 g | 2.0 g |
| Salt | 0.19 g | 0.10 g |