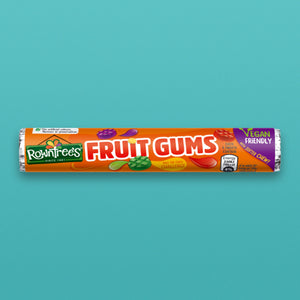 Rowntree's Fruit Gums
Get ready to unleash a burst of fruity joy with Rowntree's Fruit Gums! These colourful gems are like a fruity orchestra playing a symphony in your mouth. From zesty citrus to juicy berry flavours, each chew delivers a punch of deliciousness that's impossible to resist.
Whether you're solving a puzzle or just need a quick pick-me-up, these chewy treats are the perfect companion. So, dive into the vibrant world of Rowntree's Fruit Gums and let your taste buds dance with delight!
Nutritional information (47g per pack)
Typical Values
per 100g
Energy

1405 kj

331 kcal

Fat 

of which saturates

0.1 g

0.1 g

Carbohydrates 

of which sugars

81.6 g

46.5 g

Fibre

1.5 g

Protein

0.1 g

Salt

0.28 g