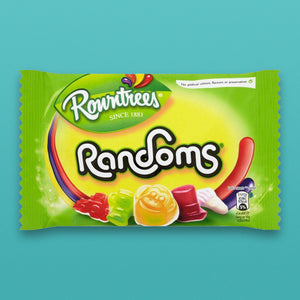 Rowntree Randoms Bag 50g
Get ready for a wild and whimsical adventure with Rowntree Randoms Bag! This 50g bag is jam-packed with an assortment of fruity and squishy treats that will bring a smile to your face.
Each piece is a playful surprise, featuring a mix of quirky shapes, vibrant colours, and mouthwatering flavours. From juicy strawberry to tangy apple and zesty orange, every bite is a delightful explosion of fruity goodness.
Whether you're sharing them with friends, using them for tasty crafts, or simply satisfying your own random cravings, Rowntree Randoms Bag is the perfect companion for those seeking a deliciously playful treat.
So, dive into the bag, let your imagination run wild, and enjoy a truly random and fruity experience with Rowntree Randoms!
Nutritional Information
Typical Values
Per Serving**
Per 100g
Reference Intake*
%RI*
Energy
350kJ
1402kJ
8400kJ
-
82kcal
330kcal
2000kcal
4%
Fat
Trace
0.1g
70g
<1%
of which: saturates
Trace
0.1g
20g
<1%
Carbohydrate
19.1g
76.3g
260g
7%
of which: sugars
13.7g
54.6g
90g
15%
Fibre
0.0g
0.0g
-
-
Protein
1.2g
4.7g
50g
2%
Salt
0.02g
0.08g
6g
<1%
*Reference Intake of an average adult (8400kJ/2000kcal)
-
-
-
-
**6 sweets
-
-
-
-
Contains approximately 2 servings
-
-
-
-
Portions should be adjusted for children of different ages