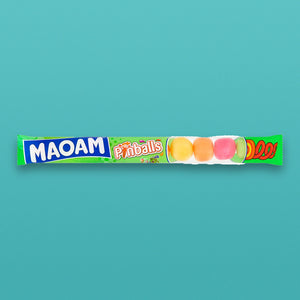 Maoam Pinballs Stick Pack 32G
Get ready for a playful and fruity adventure with Maoam Pinballs Stick Pack! This pack is filled to the brim with bite-sized balls of fruity goodness. Each chewy pinball is bursting with vibrant flavours that will make your taste buds do a happy dance. From zesty lemon to juicy strawberry and tangy orange, every piece is a delightful surprise.
Whether you're sharing them with friends, enjoying them on the go, or keeping a stash for your secret snacking moments, Maoam Pinballs Stick Pack is the perfect companion for those seeking a playful and fruity treat.
So, grab a pack, pop a pinball, and let the fruity fun begin! Get ready to unleash your taste buds into a world of sweet and chewy delight with Maoam Pinballs!
Nutritional Information
| Typical Values | per 100 g |
| --- | --- |
| Energy: | 1 727 kJ/408 kcal |
| Fat: | 5,1 g |
| of which saturates: | 2,5 g |
| Carbohydrate: | 90 g |
| of which sugars: | 70 g |
| Protein: | 0,7 g |
| Salt: | 0,05 g |