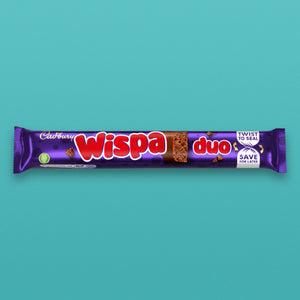 Cadbury Wispa Duo
Step into the world of heavenly indulgence with Cadbury Wispa, the chocolate bar that whispers pure delight with every bite! Indulge in the smooth, velvety milk chocolate that melts in your mouth, releasing a flurry of tiny bubbles that create a light and airy sensation.
The delightful combination of rich flavour and delicate texture makes Wispa a truly irresistible treat. Whether you savour it as a moment of pure bliss or share it with friends, this classic Cadbury creation promises to satisfy your sweet cravings like no other.
Experience the magic of Wispa and let its whisper of decadence whisk you away to a world of chocolate paradise.
Nutritional Information
| Typical Values | Per 100 g: | Per Bar (23.7 g) |
| --- | --- | --- |
| Energy | 2271 kJ (544 kcal) | 538 kJ (129 kcal) |
| Fat | 32 g | 7.6 g |
| of which Saturates | 19 g | 4.4 g |
| Carbohydrate | 56 g | 13 g |
| of which Sugars | 55 g | 13 g |
| Fibre | 2.3 g | 0.5 g |
| Protein | 6.6 g | 1.6 g |
| Salt | 0.24 g | 0.06 g |