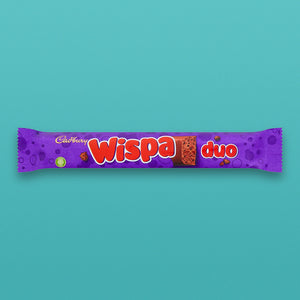 Cadbury Wispa Duo
Double the delight with Cadbury Wispa Duo! This bar is here to take your taste buds on a playful adventure. Imagine velvety smooth milk chocolate, lovingly filled with tiny, bubbly pockets of deliciousness. As you take your first bite, the delicate bubbles melt away, releasing a symphony of chocolaty goodness that will leave you craving more.
Whether you're enjoying it as a well-deserved treat, sharing the joy with friends, or sneaking a delightful moment just for yourself, Cadbury Wispa Duo is the perfect companion for those who love to indulge in chocolatey fun.
So go ahead, unwrap the magic, and let the bubbly goodness of Wispa Duo make every moment a delightfully delicious experience!
Nutritional Information
| Typical Values | Per Bar (23.7 g) | Per 100 g: |
| --- | --- | --- |
| Energy | 538 kJ (129 kcal) | 2271 kJ (544 kcal) |
| Fat | 7.6 g | 32 g |
| of which Saturates | 4.4 g | 19 g |
| Carbohydrate | 13 g | 56 g |
| of which Sugars | 13 g | 55 g |
| Fibre | 0.5 g | 2.3 g |
| Protein | 1.6 g | 6.6 g |
| Salt | 0.06 g | 0.24 g |