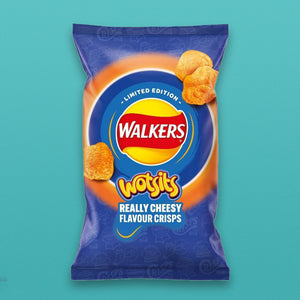 Walker's Mash Ups Wotsits Really Cheesy Crisps (65g pack)
Regular price £2.50 £1.25 Sale
Introducing the tantalizing new addition to the Walkers Mash Ups family: Wotsits Really Cheesy Crisps! Brace yourself for a flavour-packed snacking experience that will leave your taste buds begging for more.
These irresistible crisps are the ultimate mash-up of two snack sensations: the classic crunch of Walkers crisps and the cheesy goodness of Wotsits. Indulge in the perfect balance of crispy texture and a mouthwatering explosion of real cheese flavour with every bite.
Made with the finest ingredients, Wotsits Really Cheesy Crisps offer a delightful combination of nostalgia and innovation. Whether you're enjoying a movie night with friends or seeking a tasty treat during a break, these crisps are guaranteed to bring smiles and satisfaction.
With their distinct cheesy aroma and addictive taste, these Mash Ups are an instant hit for both Wotsits and Walkers fans alike. Share them with your loved ones, bring them to parties, or simply savour them on your own—no matter the occasion, Wotsits Really Cheesy Crisps are the ultimate snacking companion.
So, why wait? Treat yourself to a burst of cheesy delight and experience the best of both worlds with Walkers Mash Ups Wotsits Really Cheesy Crisps. Unleash your cheesy cravings and prepare for a snacking adventure like no other!
Best before date: 19 September 2023
Nutritional Information 
Typical Values
Per 100g:
Per 30g(%*)Serving
Energy
470 kcal
141 kcal (7%*)
Fat
21 g
6.3 g (9%*)
of which Saturates
1.9 g
0.6 g (3%*)
Carbohydrate
61 g
18 g
of which Sugars
2.1 g
0.6 g (<1%*)
Fibre
4.4 g
1.3 g
Protein
7.1 g
2.1 g
Salt
0.95 g
0.29 g (5%*)
Each pack contains 2 servings
* Reference intake of an average adult (8400 kJ/2000 kcal)