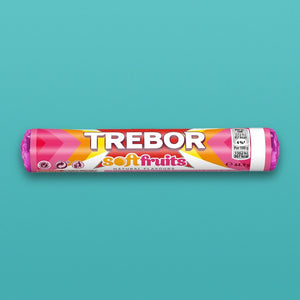 Trebor Soft Fruits
Say hello to a burst of fruity fun with Trebor Soft Fruits – the British candy that's here to add a juicy twist to your day! Imagine sinking your teeth into chewy candies that explode with vibrant fruit flavours.
These soft treats are like a fruity symphony, playing a delightful tune on your taste buds. From tangy orange to sweet strawberry, each bite is a mini adventure of taste and texture.
Whether you're treating yourself or sharing the fruity joy with friends, Trebor Soft Fruits is your ticket to a candy experience that's nothing short of fantastic. So, unwrap a pack, pop a candy, and let the fruity fiesta begin!
Nutritional Information
Per 100 g:
Per 1/2 roll (23.8 g**):
Energy
1562 kJ / 367 kcal
372 kJ / 87 kcal
Fat
<0.1 g
<0.1 g
of which Saturates
<0.1 g
<0.1 g
Carbohydrate
91 g
22 g
of which Sugars
70 g
17 g
Protein
<0.1 g
<0.1 g
Salt
0.31 g
0.07 g
**Based on 7 sweets
Approx. 2 servings per roll