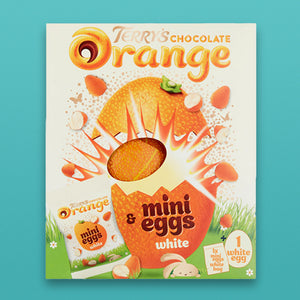 *Short Date * Terry's White Chocolate Orange Egg 230g
Regular price £12.00 £5.00 Sale
Best before date: 31 August 2023
Get ready for a zesty and whimsical treat with Terry's White Chocolate Orange Egg!
This 230g egg is bursting with delightful surprises. Imagine the smooth and creamy white chocolate perfectly blended with the tangy essence of juicy oranges. With each bite, your taste buds will embark on a playful dance of flavours.
Whether you're enjoying it as a delightful gift or a special indulgence just for yourself, Terry's White Chocolate Orange Egg is here to brighten your day with its citrusy charm.
So, go ahead and crack open this egg of happiness, and let the delightful combination of white chocolate and orange take you on a deliciously delightful adventure. It's a perfect treat for those who crave a little zest in their lives!

Nutritional Information
Typical Values
Per 6 mini eggs (22.8 g)
Per 100 g
%* / Per 6 mini eggs (22.8 g)
Energy
501 kJ
2199 kJ
-
120 kcal
526 kcal
6 %
Fat
6.2 g
27 g
9 %
of which saturates
3.8 g
17 g
19 %
Carbohydrate
14 g
63 g
5 %
of which sugars
14 g
61 g
16 %
Fibre
0 g
<0.5 g
Protein
1.6 g
7.2 g
3 %
Salt
0.08 g
0.37 g
1 %
*Reference intake of an average adult (8400 kJ / 2000 kcal)
-
-
-
Approximately 3 portions per bag