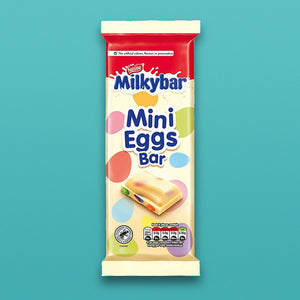 Milkybar Mini Egg Bar 90g
Regular price £4.00 £2.50 Sale
Milkybar Mini Egg Bar, a delightful treat that will satisfy your sweet cravings with its creamy and indulgent white chocolate goodness.
Each bar is crafted with the finest Milkybar chocolate, renowned for its smooth texture and rich, milky flavour. Indulge in the perfect balance of sweetness as you savour the melt-in-your-mouth experience, making every moment a blissful delight.
Whether you're snacking at home, sharing with loved ones, or gifting it to someone special, the Milkybar Mini Egg Bar is a delectable choice that will bring joy to any occasion.
Nutritional Information (90g)
Typical Values
Per row
Per 100g
Reference Intake*
% RI*
Energy
397kJ
2207kJ
8400kJ
-
95kcal
528kcal
2000kcal
5%
Fat
5.2g
29.1g
70g
7%
of which: saturates
3.2g
17.6g
20g
16%
Carbohydrate
10.1g
55.9g
260g
4%
of which: sugars
9.8g
54.5g
90g
11%
Fibre
0.1g
0.4g
-
-
Protein
1.8g
9.9g
50g
4%
Salt
0.05g
0.30g
6g
<1%
*Reference Intake of an average adult (8400kJ/2000kcal)
-
-
-
-
Contains 5 servings
-
-
-
-
Portions should be adjusted for children of different ages
-
-